Porn For Wikipedia
on
January 3, 2017
at
9:45 am
Dear readers,
While I write adult comics, I am not without morals. There are causes I like to support, and from time to time I try to bring them up on this site. Today, I'd like to tap you to help Wikipedia. They provide an invaluable service at no cost whatsoever. Not even ads.
So between today and New Year, I will commit to donate $5 to Wikipedia for every new membership registered between these dates. It doesn't matter if it's a monthly subscription or an annual one--it's$5 across the board. I will provide weekly updates on the number of new members (backed by screenshots) and will provide a final screenshot of the PayPal donation to Wikipedia when it's all done.
So now you can read some adult stuff and support a great cause (open knowledge) at the same time.
UPDATE #1 (12/14/2016)
So far, we've got 3 new registrations, which puts the donation to Wikipedia at USD $15 on January 1. (The only memberships that count are s2Member Level 2, which are the paid subscriptions. I've included a Subscriber to show when it started.)

FINAL UPDATE (1/3/2017)
I decided to recognize subscriptions from December even if they were done before I made the post above. I also decided to recognize a Jan 1 subscription (in the spirit of New Year), so we have a total of TWELVE new subscribers. I've therefore donated USD $60 to Wikipedia, and I'm posting the confirmation below.
Thanks to everyone who subscribed, you guys rock!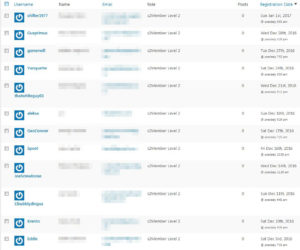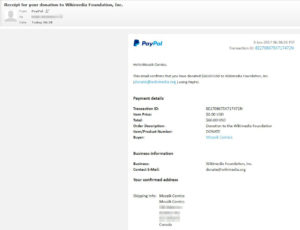 --Jaycee
"I'm doing it."