I don't make it a habit of advertising other strips out there, but this one amuses me and I thought some of you might get a kick out of it.
Ultrafem's Alice is a quick-and-dirty (VERY dirty) daily sketch-strip featuring the fantasies of a horny cosplayer (Alice) who falls asleep and dreams of an adult version of Wonderland.
You might want to check it out for yourself: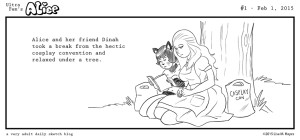 --Jaycee
"I'm doing it."